AWARDS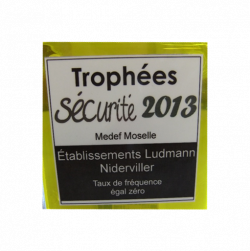 In 2012 and 2013, we were awarded the Security Trophies.
PERFORMANCE AND SAFETY
Our machine park is regularly checked by APAVE, and our staff are made aware of safety and risk prevention.
RECYCLING
Since 2015, we have been sorting and recycling :

Our office papers
Our scraps / cardboard wastes
Our plastic (stretchable or not) are upgraded thanks to ORIGAMI NETWOTK.
We take advantage from an EIT synergy for the purchase and upgrading of wooden pallets.